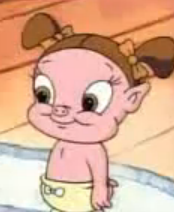 Baby Petunia is a character in Baby Looney Tunes.
Appearance
Baby Petunia is a pink pig with brown pigtails held with orange bows, and matching brown hooves and eyes. She wore a diaper at first, but by the time the other babies stopped wearing them she started to wear frilly pale yellow training panties with a white bow on the front.
Personality
Baby Petunia is gentle and a bit quiet. At first she usually would just agree with Baby Melissa about everything, either for the sake of having no other idea, or because she wished to be approved of by her. Not too long after, Baby Petunia started to branch out a little, showing a nurturing and kind side. Sometimes she is concerned over being left out or unheard, but she has learned how to handle such situations. She is also mature with some subjects, and due to this, gets along very well with the equally gentle Tweety. She is normally shown with Baby Melissa however, usually to play tea party.
Notes
For some reason, her hair and hooves have become pure black in Season 2.

One theory is that because of the colors becoming "muted" and "realistic", brown things would blend in too much.

Her favorite doll is a stuffed cow named Jasper.
Voice Actresses
Chiara Zanni (US)
Leyla Rangel (Latin America)
Caroline Combes (France)
Beatrice Margiotti (Italy)
Joanna Pach (Poland)
Michal Reshef (Israel)
Marisa Leal (Brazil)
Bárbara Lourenço (Portugal)
Ungvári Zsófia (Hungary)
Dorina Chiriac (Romania)
Appearances
Gallery