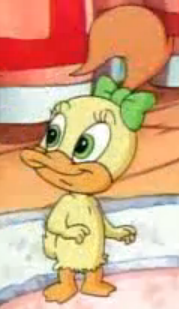 Baby Melissa is a bossy duckling. She often sticks with Baby Petunia.
Physical appearance
Baby Melissa is a cute and pretty female yellow duckling. She has green eyes and an orange ponytail which is held up by a green bow.
Personality
Despite her cuteness and beauty, she is a highly ambitious and thoughtful sort with a good nature, but at times she can be a control freak and get on the others nerves.
Notes/trivia
Voice Actresses
Janyse Jaud (US)
Haruhi Nanao (Japan)
Elsa Covian (Latin America)
Marie-Charlotte Leclaire (France)
Francesca Manicone (Italy)
Monika Wierzbicka (Poland)
Angélica Borges (Brazil)
Bárbara Lourenço (Portugal)
Talmács Márta (Hungary)
Afrodita Androne (Romania)
Gallery
Ad blocker interference detected!
Wikia is a free-to-use site that makes money from advertising. We have a modified experience for viewers using ad blockers

Wikia is not accessible if you've made further modifications. Remove the custom ad blocker rule(s) and the page will load as expected.