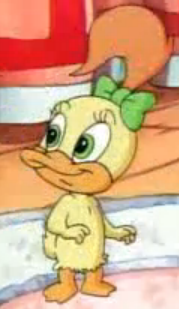 Baby Melissa is a recurring character in Baby Looney Tunes. She often sticks with Baby Petunia.
Physical appearance
Baby Melissa is a female yellow duckling. She has green eyes and an orange ponytail which is held up by a green bow.
Personality
Baby Melissa is a highly ambitious and thoughtful sort with a good nature, but at times she can be a control freak and get on the others nerves.
Notes
Voice Actresses
Janyse Jaud (US)
Haruhi Nanao (Japan)
Elsa Covian (Latin America)
Marie-Charlotte Leclaire (France)
Francesca Manicone (Italy)
Monika Wierzbicka (Poland)
Angélica Borges (Brazil)
Bárbara Lourenço (Portugal)
Talmács Márta (Hungary)
Afrodita Androne (Romania)
Gallery