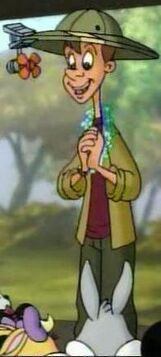 Floyd Minton is Granny's nephew. He assists her in taking care of the babies and sometimes stands in as their guardian when she is otherwise engaged. Floyd is also a student and occasionally brings up topics he hears involving children behavior.  
Appearance
He has brown hair, light green sweater, dark red shirt, dark green pants and orange and white shoes.
Personality
Sometimes he is overwhelmed by the responsibility he takes on the babies but he is determined never to let Granny down. He always get mad at Baby Daffy but has also gotten mad at Baby Bugs on one occasion.
Notes/trivia
He is voiced by Brian Drummond.
He was introduced in the second season.
Voice Actors
Brian Drummond (US)
Emmanuel Garijo (France)
Alberto Bognanni (Italy)
Modest Ruciński (Poland)
Eran Mor (Israel)
Felipe Grinnan (Brazil)
Tiago Retré (Portugal)
Eugen Morcov (Romania)
Gallery