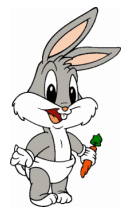 Every day, Granny arrived at the station to catch her ride. "Hello." she always said to Baby Bugs. "Remember not to be impatient, Bugs." said Granny. "You can't be as fast as Baby Taz, but you can be very useful. Don't let the silly wagons play tricks on you." There were many wagons, and Bugs worked extra hard, pushing and pulling them into their places. There was also a little carriage, and two strange things with arms that Bugs' operator called, "cranes." "This is the Big Crane." said Bugs' operator. "It is used for lifting heavy things, such as babies, and carriages, and wagons." One day, Bugs was working in the yard. Suddenly, he heard a rabbit cry, "Help me!" Some wagons were rushing by, way too fast. The rabbit's name was Baby Lola, and she was scared. She was out of control. "The wagons are pushing me!" cried Lola. "Go on, go on, go on!" cried the silly wagons. And still crying, "Help me!", poor Lola was gone. "I oughta teach those wagons a lesson!" said Bugs. Then, the alarm rang. "Lola has had an accident!" cried the controller. "Get the Big Crane! Hurry!" Bugs was hooked up to the Big Crane, and they were on their way. "C'mon, c'mon, c'mon!" cried Bugs. He wasn't pretending to be Taz. He was being serious. "Oh, those wagons and their silly stuff!" said Bugs. "I hope poor Lola's OK!" Lola's operator and food helper were feeling her to see if she was OK. "Don't worry, Lola." said her operator and food helper. "It wasn't your fault. It was those old stoppers they gave you. We always said they would be of no use." Bugs pushed the Big Crane into a siding, and then, he pulled away the wagons. "Ow, ooh, ouch!" cried the wagons. "Good for you, good for you!" said Bugs. Bugs worked very hard, going backwards and forwards all afternoon. "This will help you learn, this will help you learn!" sad Bugs to the wagons. And they answered, "It will indeed, it will indeed!" They left the damaged wagons, and then, with two cranes, they lifted Lola back to safety. She tried to move, but to no avail. So Bugs helped her back home. Granny was very happy to see them. "Well, Bugs," said Granny, "I heard all about it, and I'm proud of you. You are a useful rabbit. Lola will have some new stoppers, and some fresh clothes, and you will have a new main path all to yourself!" "Thanks, Granny!" said Bugs. Now Bugs is very happy. He has a main path, and a cat named Rita and a dog named Runt. He runs along with them happily. He is never alone. Baby Tweety and Baby Sylvester often stop by, and tell him everything. Taz is always rushing, but he never forgets to say, "hello." And Bugs always says, "hello," back to him.
Ad blocker interference detected!
Wikia is a free-to-use site that makes money from advertising. We have a modified experience for viewers using ad blockers

Wikia is not accessible if you've made further modifications. Remove the custom ad blocker rule(s) and the page will load as expected.