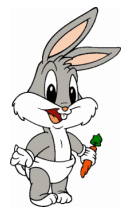 Baby Bugs
is one of the babies of
Baby Looney Tunes
. He is voiced by Samuel Vincent, who also voiced
Baby Daffy
and
Baby Tweety
.
Bio
Appearance
Baby Bugs is a gray rabbit with a fluffy tail, white paws, muzzle, and chest. He has pale pink inner-ear coloring and nose. He wore white gloves and a plain white diaper in (Taz in Toyland-Taz You Like It) until season 2, when he stopped needing it.
Personality
Baby Bugs is seen as the leader, due to his older age and maturity. While normally friendly and fair, he can be bossy sometimes and cause conflict with Baby Lola or Baby Daffy, both of whom are also strong-minded and show leaderly qualities.
He normally doesn't fall for the same tricks the other babies might, and is initially suspicious of anything that is deemed too good to be true. He is often found playing with Baby Lola and loves carrots.
Trivia
Baby Bugs is one of two characters to appear in all of the episodes, the other being Baby Lola.
His Halloween costume was Yosemite Sam.
He is one to 4 1/2 years old, which makes him born sometime in 1996. He is 5 years old in Season 2.
Voice Actors
Samuel Vincent (US)
Marc Saez (France)
Kappei Yamaguchi (Japan)
Sergio Luzi (Italy)
Corrado Conforti (Italy; Time and Time Again only)
Irwin Daayán (Latin America)
Klaudiusz Kaufmann (Poland)
Saar Badishi (Israel)
Luiz Sérgio (Brazil)
Paulo Oom (Portugal)
Bor Zoltán (Hungary)
Marian Stan (Romania)
Gallery
Ad blocker interference detected!
Wikia is a free-to-use site that makes money from advertising. We have a modified experience for viewers using ad blockers

Wikia is not accessible if you've made further modifications. Remove the custom ad blocker rule(s) and the page will load as expected.