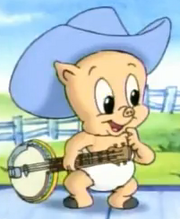 Baby Porky is a minor character and a baby version of Porky Pig. During a song he wears a large blue cowboy hat and white diaper. He plays a banjo.
Trivia
Like other characters, Baby Porky was seen in one episode of Duck Reflucks when everyone used the catchphrase, "That's all, folks". And was also seen only in songs.
He is also the only character to be seen wearing a diaper all the time.
Ad blocker interference detected!
Wikia is a free-to-use site that makes money from advertising. We have a modified experience for viewers using ad blockers

Wikia is not accessible if you've made further modifications. Remove the custom ad blocker rule(s) and the page will load as expected.