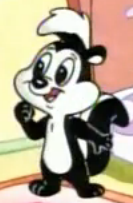 Baby Pepé is one of the minor characters in the show. He is a baby, infant and toddler version of Pepé Le Pew. He debuts as an infant in New Cat in Town, where he says Baby Sylvester's name as his first word. In Stop and Smell Up the Flowers, Baby Pepé tours the babies around the Acme gardens finding a place to plant a lemon tree. Unfortunately, the Baby Looney Tunes don't like Baby Pepé's smell, considering he is a skunk, and Baby Daffy hurts his feelings by calling him stinky.
Bio
Appearance
Baby Pepé is a black and white skunk with a big black nose, eyes, and a tuft of white hair that sticks up on top of his head. Sometimes he wears a diaper.
Personality
Baby Pepé is an innocent baby who enjoys playing with the others. As he is unable to help with his scent, his feelings are hurt when others complain over it or make fun of him.
Trivia
The only time that Baby Pepé wears a diaper is in the song, If You're Looney.
There is also a book called, I Do, I Do! and Baby Pepé wears a diaper.
In one scene in New Cat in Town, it shows him as an infant and an adult.
Gallery