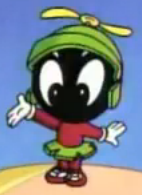 Baby Marvin is a minor character from the show. He is a toddler version of Marvin the Martian. In War of the Weirds, he pays a visit to the babies, but no one likes him so Baby Taz befriends Baby Marvin to make him feel welcome.
Trivia
War of the Weirds was the only episode to feature Baby Marvin. The other ones were songs.
He is another character to never be seen wearing a diaper.
Ad blocker interference detected!
Wikia is a free-to-use site that makes money from advertising. We have a modified experience for viewers using ad blockers

Wikia is not accessible if you've made further modifications. Remove the custom ad blocker rule(s) and the page will load as expected.